Water Shield (FR Grade) FRC-10/60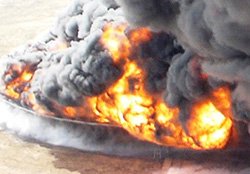 Zahabiya Water Shield (FR Grade) FRC-10/60, is a co-polymeric, fire retardant & non-flammable protective coating, exceptionally suitable for the purpose of fire & weather protection of cellular or porous surfaces. Ideal for both indoor and exterior use for coating on cloth, timber, hard board, chip board, block works, concrete, metal and insulation sheets. FRC-10/60 is extensively used in HVAC as the fire retardant adhesive cum vapour barrier coating over the lagging cloth and as the exterior protective paint for the protection of cloth & duct jackets from the harmful atmospheric effects. It's high waterproofing and vapour barrier properties enables it to be used in areas where relative humidity exceeds 90% for long period.
The product conforms to the VOC requirements of LEED IEQ 4.2 – Low Emitting Materials: Paints & Coating and Green Seal Standard GS-11.
Properties:
Rated VTM-0 for flame retardancy with flame spread of 0.8″/min (HB) as per UL-94.
IBC Class A & NFPA Class A Fire Retardant.
Water/ oil proof & vapour barrier.
U/V, weather & temperature resistant.
Flexible, non-cracking & abrasion resistant.
Fungi, mildews & other micro-organisms resistant.
Inquiry for this product