Flamex FRX-10/65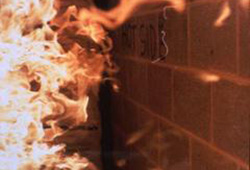 Zahabiya FlameX FRX-10/65 is a high performance, intumescent flame retardant coating with excellent fire retardant properties. The coating can be applied on variety of substrates including wood, ply-wood, MDF sheets, concrete or plastered surfaces, steel reinforcements, gypsum & fibre boards etc. to render them flame retardant. FRX-10/65, up on the exposure to direct fire, swells by around 30 to 50 times of its original thickness, creating a flame retardant & fire resistive barrier between the fire and the substrate, thereby reducing the reach of the flame to the substrate, thus effectively retarding the flame spread. This makes it excellent product to be used around openings where the duct passes through a wall, ceiling or MDF Partitions.
The product conforms to the VOC requirements of LEED IEQ 4.2 – Low Emitting Materials: Paints & Coating and Green Seal Standard GS-11.
Properties:
Excellent Flame Retardancy.
IBC Class A & NFPA Class A Fire Retardant.
Rated VTM-0 as per UL 94.
Practically "0" flame spread (UL 94 HB).
Swells in contact with fire.
Ideal for high fire risk cellulosic rigid materials.
Inquiry for this product