Sealing Compound ZSC-13/63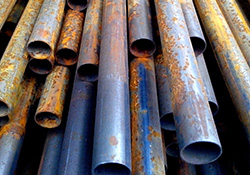 Zahabiya Sealing Compound ZSC-13/63 (Seam Sealer) is an air-drying high viscosity adhesive sealant with excellent vapour barrier, water/ oil proof & air tight properties. It is an excellent sealant & caulking compound with good adhesion on metals, plastics, and other surfaces. Effective at all such places where leakage free seams & joints are needed or the bonded surfaces are in continuous contact with oily or water based products. Also used in HVACR & Engineering applications at metallic seam joints, as an economical sealant; it adheres, insulates and protects the metallic pipes from rust & corrosion, replacing the use of PVC tape for under-ground or weather exposed jobs as a seamless, economical & water resistant coating.
Properties:
Water & oil proof.
Diesel, fuel, acid & alkali resistant.
U/V & weather resistant.
Vapour barrier & air tight.
Non-corrosive & non-toxic.
Excellent bond on both ferrous and non-ferrous metals.
Safe from -20°C to 190°C intermittent temperatures.
Inquiry for this product