Transparent Sealer TS-141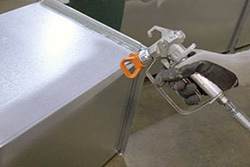 Transparent Sealer TS-141 is a vinyl copolymer based solvent borne clear lacquer & sealer, usable for industrial & commercial sealing problems wherever neat & clean leakage repairing or surface protection is required. It quickly dries into a clear, strongly bonded glossy film and is especially useful for protecting metal surfaces (both ferrous and non-ferrous) from rust/ oxidation& filling and sanitary sealing pin holes, hairline cracks & minor leakage of liquids & oxidizing gases. It is also used to seal leakages from narrow seams and joints in Engineering and Metal Fabrication Industry.
Properties:
Excellent adhesion on ferrous and non-ferrous metals.
High rust, oxidation and corrosion protection property.
Water & oil proof.
Temperature & weather resistant.
Fair to acid & alkali attack.
Inquiry for this product