Sealing Gum ZSG-12/99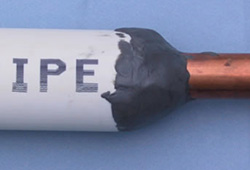 Zahabiya Sealing Gum ZSG-12/99 is a sticky textured, flexible non-hardening elastomeric sealant/ putty possessing high cohesion, tack, elongation and excellent non-ageing properties. As a Duct Sealant in Central Air-Conditioning (HVAC), it is used during installation and maintenance as a water tight, air/gas tight, vapour barrier, weather resistant & non-cracking soft seal with very good adhesion on various surfaces. At all such special jobs & places where removable elastic insulating sealant is needed, the product is ideal. Being satisfactorily used in Air Conditioners, Refrigerators & Deep Freezers manufacturing since last 40 years as elastic putty, ZSG-12/99 is also used for sealing laps/ seams in mechanical sheet metal fabrication and sealing the expansion joints in Air Conditioning Ducts (Medium and High Velocity).
Properties:
Water & Oil Proof
Gas tight & Vapour Barrier
Ever Flexible & non-hardening
More than 800% elongation
U/V, ozone & weather resistant.
Non-magnetic & non-conductor of electricity
Non-toxic and safe in handling.
Inquiry for this product