Thermal Seal Coat 130/56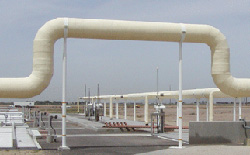 Thermal Seal Coat 130/56 is an economical, water-based polymeric adhesive & protective coating which provides good water proof, vapour barrier,thermally insulating & durable protective finish for insulation's in HVAC applications in only 2 coats. The product can be used in many applications such as cementing laps of lagging cloth, asbestos and other thermal insulation materials; protective coating on cold or hot water pipe; coating on delicate plastic insulation's to protect from harsh climatic effects etc. Safe for applications where relative humidity exceeds 80% or where the insulated pipe or equipment contains chilled water, brine or refrigerant due overall good resistance properties.
The product conforms to the VOC requirements of LEED IEQ 4.2 – Low Emitting Materials: Paints& Coating and Green Seal Standard GS-11.
Properties:
Air/ gas tight, vapour barrier, water & oil proof.
Tough, non-cracking & abrasion resistant.
High U/V, weather and thermal resistance.
Good adhesion on plastics, cloth, metal & wooden surfaces.
Fungi, mold, algae etc. resistant.
Inquiry for this product