Soft Seal Special ZSP-1191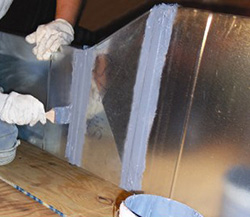 Zahabiya Soft Seal Special ZSP-1191 is a mastic & caulking sealant which forms a soft gasket seal on self-curing. For all applications where a vapour barrier, air / gas tight, water & oil proof, weather resistant and non-cracking sealant is required, this product is the perfect answer. It is an ideal & non-toxic DUCT SEALANT for HVAC Ducting System, useable for both high and low velocity air-conditioning & ventilation ducts. ZSP-1191 has very good adhesion with metallic surfaces, plastics, glass, polyurethane foams, thermophore sheets, glass wool insulation etc. It is the best replacement of traditional toxic silicon sealants & can be used in closed environment without emitting any bad odour or toxic fumes. The product is safe in handling and use.
The product conforms to the VOC requirements of LEED IEQ 4.1 – Low Emitting Materials: Adhesives & Sealants.
Properties:
Non-cracking, ever soft and flexible sealant.
Cold/ hot water proof; oil & solvent proof.
Vapour barrier & air / gas tight.
Resists temperature from -40°C to 200°C.
Fungi, mildew and micro-organism resistant.
U/V & weather resistant.
Can be painted over.
Inquiry for this product