Latex Bond 160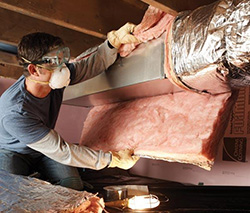 Zahabiya Latex Bond 160 is co-polymeric, water borne, flexible & non-staining adhesive used for insulation attachment in Central Air-conditioning & Ducting Jobs and other such applications where non-flammable adhesives are preferred for safety reasons. Zahabiya Latex Bond 160 is a safe, non-flammable & non-toxic adhesive with numerous applications including insulation attachments, canvas pasting, protective coat for sensitive insulation's etc. thus perfectly replacing the conventional rubber/solvent based adhesives which are hazardous and toxic in nature.
The product conforms to the VOC requirements of LEED IEQ 4.1 – Low Emitting Materials: Adhesives & Sealants.
Properties:
Cold/ hot/ boiling water proof D4 adhesive.
U/V and weather resistant.
Ever flexible and non-cracking.
Resists temperatures from -10°C to 100°C.
Fungi, Mold & Algae resistant.
Excellent non-ageing properties.
Inquiry for this product