High Tack Adhesive HTA-9/39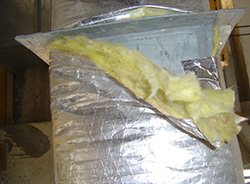 Zahabiya High Tack Adhesive HTA-9/39 is a fast drying synthetic rubber based solvent borne contact adhesive, formulated for bonding different types of thermal insulation's to sheet metals such as galvanized steel or aluminum HVAC ducts. Its fast drying and high initial (green) adhesive/ tack permits immediate bonding & pasting within 20 minutes of application. The bond so achieved is water proof, flexible & non-cracking when exposed to atmospheric conditions.
Properties:
Water proof and weather resistant bond.
Excellent bond on variety of substrates including insulation foams.
Permits quick assembly of bonded surfaces.
Inquiry for this product