Sound Deadening Compound ZSD-805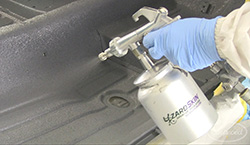 The product is a heat curing one component PVC based thixotropic coating compound,especially formulated to form thick insulating coating to perform sound deadening function. This product is characterized by a high gelation rate and minimum settling at low viscosities. It cures only after heat treatment to give a textured, flexible sealing coat of permanent nature, unaffected by & normal wear and tear & abrasion resistance. This is a ready made undercoat sealer mainly used during the assembly of automobiles in the form of under coats to metallic surfaces exposed to atmospheric wear and tear, exhibiting excellent lube & fuel/oil resistance.
For production of air filters of various different types of vehicles including cars, buses, tractors, generators etc.
Inquiry for this product